» Online Users: 63
1 members and 62 guests
alanh
Most users ever online was 2,208, 2021-10-13 at 09:34 AM.
» WIMAC Club History
(see English below)

1960
À la fin des années 1960, quatre hommes ont commencé à voler au bout d'un terrain de baseball à gauche du nouveau cinéma du chemin Sainte-Marie et de la route transcanadienne. Ces pilotes étaient Roger Bernier, Armin Hohlman et deux autres pilotes encore très actifs aujourd'hui, Krishna Blake et Paul Grenier. Lorsque l'herbe devenait un peu trop longue, Paul demandait la permission à la ville de Kirkland avant de tondre l'herbe. Comme Krish le rappelle, au début des années 1970, lorsque le groupe s'est agrandi, nous avons dû aider les autres à leur montrer comment voler. Nous n'avions pas alors un cours de pilotage très structuré comme nous l'avons fait aujourd'hui.

1976
WIMAC a été formé mais après un certain temps, nous avons commencé à empiéter sur l'utilisation du terrain de baseball car le nombre de membres devenait un peu trop important.

1977
Notre club a dû déménager dans un champ à Dorion. Armin Hohlman est devenu président de WIMAC, Roger Bernier, Willis Eisner et Krish Blake sont devenus administrateurs.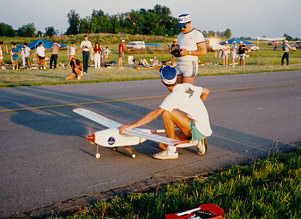 1988
Lorsque Hydro-Québec a décidé de construire et d'installer une tour électrique sur notre terrain, nous avons de nouveau dû déménager. Nous avons décidé d'aller à notre emplacement actuel.

1989
Cette année-là, Willis Eisner, un employé retraité d'Air Canada, a été élu président de notre club, Rudi Baur, qui a commencé à voler en 1981, est devenu vice-président et trésorier. Soit dit en passant, Rudi avait déjà son école primaire en activité à l'époque.

1991
Graham Holloway a été élu président et il est resté en tant que tel pendant quatre ans. Au début nous volions alors dos au soleil.

1995 à 1997
Jim McEwen était le président, Lorne Trottier était le vice-président, Gabriel Chagnon était le secrétaire. Avec l'expérience acquise l'exécutif du club a élaboré un plan directeur qui abordait les problèmes d'empiètement et de sécurité ainsi que les changements qui pourraient être apportés pour améliorer les installations pour le plaisir des membres. Les postes de pilotage ont été déplacés du côté nord de la piste pour déplacer la configuration du trafic vers le sud et loin des bâtiments le long de Pilon. Des plans ont été élaborés pour un abri solaire, un espace barbecue, une aire de jeux pour enfants et un parking amélioré. Les règles générales et les règles de sécurité du club ont été révisées et mises à jour pour incorporer la nouvelle disposition et la politique d'application des règles a été élaborée. Ces changements ont été ratifiés lors de l'AGA de 1996.

1998
Gabriel Chagnon a été élu président. Lui et d'autres membres ont joué un rôle déterminant dans la construction de notre abri solaire actuel et bien nécessaire et de la structure de l'enceinte radio. Cette année-là, Bob Pines et Roger Wuilleumier ont été invités à un programme d'après-midi sur CJAD pour parler de notre hobby.

2001
Brian Kizner a été élu président, un pilote expérimenté en R / C depuis 1989. Il faut accorder beaucoup de crédit à tous nos dirigeants. Nous avons beaucoup accompli ces dernières années. Nous avons élargi notre Airpark pour accueillir des hélicoptères. L'une des raisons de notre succès ces dernières années est que nous avons toujours été un club d'enseignement et la promotion de la présence familiale. Nos installations en place ont été conçues dans cet esprit. Il y a quelques années, nous avons fait quelques expositions statiques au centre commercial Fairview et, à l'été 2001, nous avons fait prendre nos photos pour le West Island Chronical Newspaper.

2003
Nous avons organisé notre tout premier concours IMAC en septembre dirigé par Alix Barjon qui a été un succès.

2004 à 2006
Trois années consécutives avec une saison de vol en salle organisée par WIMAC planifiée et organisée par Dwight Macdonald. Khrishna Blake est retournée en Jamaïque pour fuir les hivers froids du Canada et a démissionné de son poste de vice-présidente de longue date.
WIMAC présente le programme MAAC WINGS pour les instructeurs qualifiés et les pilotes.

2007
Le site Web de WIMAC a été remanié avec un nouveau fournisseur d'hébergement Web, un moteur de forum, une galerie de photos et des petites annonces.
Patrick Fortin a annoncé sa démission en tant que trésorier. Ronald Longtin a repris les responsabilités de ce poste important.
Bob Forest et d'autres membres ont suggéré l'idée de fabriquer des pare-soleil, qui pourraient être positionnés aux postes de pilotage pour protéger le visage du pilote du soleil. C'était très populaire auprès des membres.

2008
Brian Kizner a déclaré sa démission en tant que président du club, après avoir purgé huit ans. Il a annoncé son intention de quitter Montréal et son intention de déménager à Terre-Neuve en octobre pour explorer un mode de vie plus calme. Andrew Fernie a assumé le rôle de notre président.

Les améliorations sur le terrain en 2008 comprenaient la construction de nouvelles tables de pique-nique pour les membres, de nouvelles clôtures de poste de pilotage, davantage de bancs pour les pilotes d'hélicoptère et l'expansion et le nivellement de la zone d'hélicoptère, de nouveaux graviers sur la chaussée et le parking et le débroussaillage.

2010
Andrew Fernie a quitté ses fonctions de président.
James Steger a été élu président.
Des réparations à la piste et des extensions de dégagement d'herbe ont été effectuées aux extrémités de la piste.
Sun Shelter a été hiverné pour le vol d'hiver (chauffé).
L'école a érigé une nouvelle porte à l'entrée de WIMAC.

2011
Améliorations de la zone Heli, chemin vers le pad Heli, clôture anti-retour pour le dos des pilotes Heli.
Les arbres qui pendaient trop sur la route d'accès ont été taillés.
Un plancher surélevé installé sous l'abri soleil.
Nouvelles tables ajoutées aux zones Héli et Avion.

2012
Alberto Providenti a été élu président.
Réparations routières, débroussaillage.
Réparation des pistes, remplacement de la bâche de piste du côté est.
Les avions électriques et les avions en mousse deviennent un choix très populaire.
FPV devient également populaire auprès des hélicoptères / multicoptères et des avions.
Une nouvelle règle de sécurité a été adoptée concernant le vol FPV.
WIMAC a acheté deux barbecues et tentes solaires pour accueillir les Funfly et d'autres événements.

2015
Le regretté Marc Schoonheijt a fait don d'un générateur à WIMAC.
Chaque année, des améliorations sur le terrain et des réparations routières sont effectuées.
Un Gazebo a été acheté et installé pour la section Heli / FPV.

2016
Alberto Providenti a quitté ses fonctions de président.
Michael Jenkins a été élu président.

2017
Michael O'Bree a repris le rôle de secrétaire / trésorier de Ronald Longtin qui a exercé ces fonctions onéreuses pendant 10 ans.

2018
Les bardeaux de toiture ont été remplacés du côté sud de l'abri solaire.

2019
L'un des membres fondateurs a rejoint le club (Krishna Blake).
Nous avons eu une autre année très réussie à notre Funfly annuel, comme le montrent ces photos liées:
Link1
Link2

En décembre, la Ville de Montréal a annoncé qu'elle avait acheté le terrain de WIMAC à Grilli.

__________________________________________________ _______________________

1960
In the late 1960's four men started flying at the end of a baseball field to the left of the new cinema at Chemin St. Marie and the Trans Canada hwy. These pilots were Roger Bernier, Armin Hohlman, and two other flyers who are still very active today, Krishna Blake and Paul Grenier. When the grass got a bit too long, Paul would ask permission from the city of Kirkland before mowing the grass. As Krish recalls it, in the early 1970's when the group got larger we had to assist others in showing them how to fly. We did not have a very structured flying course then like we have today.

1976
WIMAC was formed but after some time we started infringing on the usage of the baseball field as the number of members was getting a bit too large.

1977
Our club had to move to a field in Dorion. Armin Hohlman became the President of WIMAC, Roger Bernier, Willis Eisner and Krish Blake became the Directors.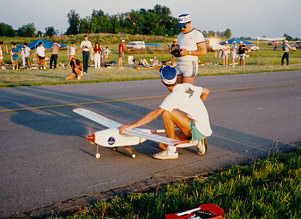 1988
When Hydro Quebec decided to build and install an electrical tower on our field, we again had to move. We decided to go to our present location.

1989
In that year Willis Eisner, a retired Air Canada employee, was elected as President of our club, Rudi Baur who started flying in 1981 became Vice President and Treasurer. By the way, Rudi already had his ground school in operation then.

1991
Graham Holloway was elected President and he remained as such for four years.
At the start, we were flying with our backs to the sun, the pilots south of the runway.

1995 to 1997
Jim McEwen was the President, Lorne Trottier was the VP, Gabriel Chagnon was the Secretary. With experience gained the Club Executive developed a Master Plan which addressed encroachment and safety concerns as well as changes that could be made to improve the facilities for the enjoyment of the members. The pilot stations were moved to the north side of the runway to shift the traffic pattern to the south and away from the buildings along Pilon. Plans were made for a sun shelter, BBQ area, childrens play area, and improved parking. The club General Rules and Safety Rules were revised and updated incorporate the new layout and the Rule Enforcement Policy was developed. These changes were ratified at the 1996 AGM.

1998
Gabriel Chagnon was elected President. He and other members were instrumental in the building of our present and much needed sun shelter and of the radio impound structure. That year, Bob Pines and Roger Wuilleumier were invited on a afternoon program on CJAD to speak about our hobby.

2001
Brian Kizner was elected as the President, an experienced R/C pilot since 1989. A lot of credit has to be given to all our Execs. We have accomplished much these last few years. We have expanded our Airpark to accommodate helicopters. One of the reasons for our success these past years is because we have always been a teaching club and promoting the family presence. Our facilities in place were made with this in mind. Some years back we did a couple of static displays at the Fairview Shopping Center and in the summer of 2001 we had our pictures taken for the West Island Chronical Newspaper.

2003
We held our very first IMAC competition in September directed by Alix Barjon which was successful.

2004 to 2006
Three back to back years with a WIMAC hosted Indoor flying season planned and organized by Dwight Macdonald. Khrishna Blake moved back to Jamaica to flee the cold winters of Canada and resigned as a long standing Vice President.

WIMAC introduces the MAAC WINGS Program for qualifying instructors and pilots alike.

2007
WIMAC website revamped with new Web Hosting provider, forum engine, photo gallery and classifieds.

Patrick Fortin announced his resignation as Treasurer. Ronald Longtin took over the responsibilities of this important position.

Bob Forest and other members suggested the idea of making Sun blockers, that could be positioned at the pilot stations to shelter pilot's faces from the sun. This was quite popular with the membership.

2008
Brian Kizner declared his resignation as President of the club, after serving eight years. He announced his plans to leave Montreal and his plans to move to Newfoundland in October to explore a quieter lifestyle. Andrew Fernie assumed the role of our President.

Field improvements in 2008 included the construction of new picnic tables for members, new pilot station fences, more benches for the Helicopter pilots and expansion and leveling of the Helicopter area, new gravel on the roadway and parking lot and brush clearing.

2010
Andrew Fernie stepped down as the President.
James Steger was voted in President.
Repairs to the runway and grass clearing extensions were done at the ends of the runway.
Sun Shelter was winterized for Winter flying (Heated).
The school erected a new gate at the entrance to WIMAC.

2011  
Heli area enhancements, walk way to Heli pad, Backstop fencing for the backs of the Heli pilots.
Trees that were over hanging on the access road were trimmed.
A raised floor installed under the sun shelter.
New tables added to the Heli and plane areas.

2012 
Alberto Providenti was voted in President.
Road repairs, Brush trimming.
Runway repairs, replaced runway tarp on east side.
Electric planes and foam planes becoming a very popular choice.
FPV also becoming popular with Heli/multicopters and Planes.
New safety rule was adopted concerning FPV flying.
WIMAC purchased two event BBQ's and Sun Tents to accommodate the Funflys and other events.

2015    
The late Marc Schoonheijt donated a generator to WIMAC.
Each year Field improvements and road repairs are carried out.
A Gazebo was purchased and installed for the Heli/FPV section.

2016 
Alberto Providenti stepped down as President.
Michael Jenkins was voted in as President.

2017 
Michael O'Bree took over the Secretary/Treasurer role from Ronald Longtin who performed these onerous duties for 10 years.

2018
Roofing shingles were replaced on the south side of the sun shelter.

2019 
One of the founding members has rejoined the club (Krishna Blake).
We had another very successful year at our Annual Funfly, as shown in these linked photos:
Link1
Link2

In December the City of Montreal announced it had purchased the land WIMAC's field is on from Grilli.